WALGREENS Officially Replacing Borders on Broad Street
WALGREENS Officially Replacing Borders on Broad Street
It's official, a "Flagship Walgreens" modeled on stores currently located in Manhattan and Chicago has received zoning approvals needed for a three-story, 26,000-square-foot space.  Walgreens will occupy the space formerly leased by Borders bookstore at the intersection of Broad Street and Chestnut Streets near City Hall.  Philly.com reports that the Flagship Walgreens will have a pharmacy, takeout lunch/dinner, a physician, and a nail/hair salon.  The ZBA approval marks the end of seven months of negotiating and compromise.
Click For a 100% FREE search of all Philadelphia Real Estate
Blog post compliments of CenterCityTeam's Philadelphia Real Estate Blog
Frank L. DeFazio, Esquire
Prudential Fox & Roach Realtors – Society Hill
530 Walnut Street, Suite 260
Philadelphia, PA 19106
215.521.1623 Direct
610.636.4364 Cellular
888.308.1148 Fax
Frank@CenterCityTeam.com
CenterCityTeam.com: Philadelphia Real Estate
Frank L. DeFazio, Esq.
BHHS Fox & Roach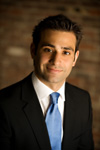 Search Philadelphia Homes