AVI Assessments Mailed – Your Taxes Are Going Up Today!
Philadelphia's Office of Property Assessments (OPA) is mailing out the new tax assessments under the much discussed Actual Value Initiative (AVI) today.  The mailings, in addition to the new assessed value, will include an opportunity for the homeowner to dispute assessments believed to be incorrect by filing a First-Level Review no later than March 31st.  To dispute the assessment the homeowner will be asked to provide his/her opinion of the property value and will be afforded the opportunity to present evidence substantiating his/her opinion of value.  It is entirely predictable that homeowners will obtain appraisals, BPO's, CMA's and comps from local real estate agents to dispute assessments. City Council will also have the remainder of 2013 to take steps to mitigate any unanticipated impacts or exceedingly burdensome impacts of the new taxation system.  This doesn't have to be a crisis that hurts the value of all Philadelphia Real Estate.  Information about the AVI assessments can be found here and 2014 assessed values will be on the OPA website soon.
Click Here To Search For Philadelphia Real Estate
Click Here To Search For Philadelphia Condos
Frank L. DeFazio, Esquire
Prudential Fox & Roach Realtors – Society Hill
530 Walnut Street, Suite 260
Philadelphia, PA 19106
215.521.1623 Direct
610.636.4364 Cellular
888.308.1148 Fax
Frank@CenterCityTeam.com
Leave a Reply
Frank L. DeFazio, Esq.
Prudential Fox & Roach, Realtors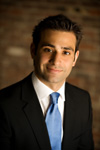 Search Philadelphia Homes
Top Philadelphia Condos 2014
Top New Construction Projects 2014
What Is Your Home Worth?
Get a 100% Free Expert Analysis That Includes Recent Sale Comps and Current Market Conditions.
From Our Blog
Imagine living in the very heart of Center City, Philadelphia. Imagine a home flooded with natural...
Read More»
New Listings
Search Our Site
Search Philadelphia Real Estate Blog