Fans of Pure Fare, Agno Grill and Sweet Freedom can attest to the fact that Rittenhouse Square has seen a literal explosion of organic, locally sourced, gluten free, vegan and eco-conscious restaurant options pop up in the last 12-24 months.  Very soon, Rittenhouse Square will add Pure Sweets to that list!
Pure Sweets is a gluten-free, kosher, vegan, and organic bakery based in Philadelphia that offers, "delicious, decadent desserts made with healthful ingredients and without animal products, gluten, or unnatural additives."   Soon Pure Sweets will occupy the commercial space that formerly housed Adresse at 1706 Locust Street.
Here's a little bit more about our soon to be Center City neighbor:
"Pure Sweets is an organic, gluten-free, vegan, kosher bakery in Philly that will win over even the most diehard cheesesteak and soft pretzel guy.  Our gluten-free and vegan desserts are healthy in blueprint and decadent in taste. No multisyllabic additives or peculiar preservatives here: the only things you'll find in a Pure Sweets treat are carefully curated unrefined ingredients and happiness…. We are passionate about making treats that are not only sweet to eat but also healthful in design. We source our ingredients locally and use only non-GMO products. Our packaging is also designed to be contentious of the environment by incorporating low-impact, recycled materials. We are a Certified B-Corp, and we are doing our best to leave the world a better place."
As if this wasn't good enough already, this summer Pure Sweets launched their very own organic, cold-pressed juice line, Pure Tonics, and the response has been overwhelmingly positive.
How could you not be excited about a company whose mission is "To make the world a happier place one treat at a time. Pure Sweets treats are better for you, our fellow animals, easy on our planet."  To top it all off Pure Sweets donates 5% of their profits to animal rescues.  There is so much to like about Pure Sweets and Founder and Chief Executive Officer Andrea Kyan.  We'd like to be the first to wish them the best of luck in Center City!  Oh, and I'm told that when you stop by you absolutely have to try The Frog, a gluten free pistachio, espresso cookie (pictured above) that was recently recognized as Philadelphia's best gluten free treat. I think it's a safe bet to say that if you stop by Pure Sweets you will probably see me there!
For more information visit http://puresweets.com/  or check out https://www.facebook.com/PureSweets08
Pure Sweets
3580 Indian Queen Lane
Philadelphia, Pennsylvania 19129
Phone (215) 518-9007
info@puresweets.com
http://puresweets.com
Click Here To Search For Philadelphia Real Estate
Click Here To Search For Philadelphia Condos
Frank L. DeFazio, Esquire
Prudential Fox & Roach Realtors – Society Hill
530 Walnut Street, Suite 260
Philadelphia, PA 19106
215.521.1623 Direct
610.636.4364 Cellular
888.308.1148 Fax
Frank@CenterCityTeam.com
Leave a Reply
Frank L. DeFazio, Esq.
Prudential Fox & Roach, Realtors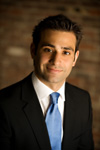 Search Philadelphia Homes
Top Philadelphia Condos 2014
Top New Construction Projects 2014
What Is Your Home Worth?
Get a 100% Free Expert Analysis That Includes Recent Sale Comps and Current Market Conditions.
From Our Blog
Imagine living in the very heart of Center City, Philadelphia. Imagine a home flooded with natural...
Read More»
New Listings
Search Our Site
Search Philadelphia Real Estate Blog