Don't Hesitate To List Your Home In The Winter
Contrary to popular belief, you don't have to wait until the Spring to list your Philadelphia condo or home for sale. Home sellers think the Spring provokes greater interest from buyers, but with the right home, it can be sold any month of the year. Since there are fewer buyers looking for homes in the colder months, there is less competition among sellers. If there is too much inventory on the market, your home could go unnoticed. Shoppers hunting for a deal in the Fall and Winter are also more motivated and probably have to move for a job relocation or other time sensitive need.  A well staged home shows beautifully any time of year but the holidays are a perfect time to show how cozy and inviting your home is to buyers. Festive decor makes the house feel livable, especially if the framed family photos on the mantle are replaced by holiday garland.  A front door looks a lot more inviting when a wreath is hanging on it, so think twice about waiting to list your home in the Spring.
Leave a Reply
Frank L. DeFazio, Esq.
Prudential Fox & Roach, Realtors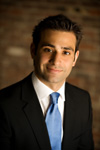 Search Philadelphia Homes
Top Philadelphia Condos 2014
Top New Construction Projects 2014
What Is Your Home Worth?
Get a 100% Free Expert Analysis That Includes Recent Sale Comps and Current Market Conditions.
From Our Blog
Imagine living in the very heart of Center City, Philadelphia. Imagine a home flooded with natural...
Read More»
New Listings
Search Our Site
Search Philadelphia Real Estate Blog