Eataly Philadelphia Coming Soon
All of the usual blog suspects are reporting that Mario Batali's Eataly is coming to Philadelphia in next 12 months. For those who don't know, Eataly is an Italian food market (like Reading Terminal or Chelsea Market) made up of a variety of high end restaurants, food and beverage stations, bakery, and retail items. The first Eataly opened in Turin, Italy, in 2007, the second in New York City in 2010, and the third in Chicago this year.  The big news for Philly foodies was disclosed in an interview given by Eataly New York  partner Joe Bastianich.  The location of the Philadelphia Eataly has not been confirmed but rumors are that it could be the old Strawbridge's building on 8th and Market.
For more visit http://www.CenterCityTeam.com/blog
Leave a Reply
Frank L. DeFazio, Esq.
Prudential Fox & Roach, Realtors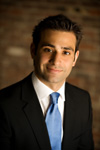 Search Philadelphia Homes
Top Philadelphia Condos 2014
Top New Construction Projects 2014
What Is Your Home Worth?
Get a 100% Free Expert Analysis That Includes Recent Sale Comps and Current Market Conditions.
From Our Blog
Imagine living in the very heart of Center City, Philadelphia. Imagine a home flooded with natural...
Read More»
New Listings
Search Our Site
Search Philadelphia Real Estate Blog