Contact The CenterCityTeam For All Of Your Philadelphia Real Estate Needs:
We would love to hear from you or answer any questions you have… Please fill out the form below and be sure to include your email address and phone number so we can contact you right away and assist with all of your Philadelphia real estate needs.
cforms contact form by delicious:days
Results are all that matter at CenterCityTeam.  We won't lie or embellish to win your business.  We won't make excuses about the market.  We get the job done. We will give you facts and data and then guide you through today's complex real estate market.  You won't deal with assistants, you will be in constant contact with one of our agents and you will receive immediate responses 24/7.
Our Offices:
Prudential Fox & Roach, Realtors
530 Walnut Street, Suite 260
Philadelphia, PA 19106
Office: 215.440.2093
Fax: 888.308.1148
Contact Our Team members Directly
Frank L. DeFazio, Esquire
Maria Iskenderian DeFazio
Frank L. DeFazio, Esq.
Prudential Fox & Roach, Realtors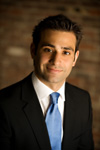 Search Philadelphia Homes
Top Philadelphia Condos 2014
Top New Construction Projects 2014
What Is Your Home Worth?
Get a 100% Free Expert Analysis That Includes Recent Sale Comps and Current Market Conditions.
From Our Blog
Imagine living in the very heart of Center City, Philadelphia. Imagine a home flooded with natural...
Read More»
New Listings
Search Our Site
Search Philadelphia Real Estate Blog