CenterCityTeam Exclusive Listings
The home owners below decided to sell their home, knowing full well that 95% of home buyers are using the internet and social media during their search.  These sellers know that having Philadelphia's only world class website, blog and social media presence puts them in the best position to succeed.  Contact the CenterCityTeam and find out how we can sell your home for the most money in the shortest amount of time.
Frank L. DeFazio, Esq.
BHHS Fox & Roach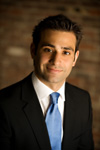 Search Philadelphia Homes