Frank L. DeFazio, Esq.
Prudential Fox & Roach, Realtors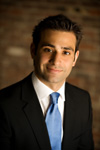 Search Philadelphia Homes
Top Philadelphia Condos 2014
Top New Construction Projects 2014
What Is Your Home Worth?
Get a 100% Free Expert Analysis That Includes Recent Sale Comps and Current Market Conditions.
From Our Blog
Before you ask - it's a fear of dolls. Pediophobia, that is. For some of us, the Talky Tina episode...
Read More»
New Listings
Search Our Site
Search Philadelphia Real Estate Blog