Frank L. DeFazio, Esq.
Prudential Fox & Roach, Realtors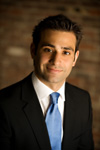 Top Philadelphia Condos 2014
Top New Construction Projects 2014
What Is Your Home Worth?
Get a 100% Free Expert Analysis That Includes Recent Sale Comps and Current Market Conditions.
From Our Blog
I've heard of dedicated locavores, but this is an impressive commitment to the movement. Hotel...
Read More»
New Listings
Search Our Site
Search Philadelphia Real Estate Blog